hansgrohe ComfortZone test
The perfect mixer and wash basin combination
Are you looking for a mxier for your wash basin? Or vice versa: you have a hansgrohe mixer and would like to know which basin works well with it? We want you to be able to enjoy maximum comfort in your home, so you can find ideal tap and wash basin combinations here. Tested by hansgrohe. For you to enjoy the very best experience of water when washing your hands, washing your hair or when filling up tall containers.
Harmony at the wash basin: how to make everything match, both functionally and aesthetically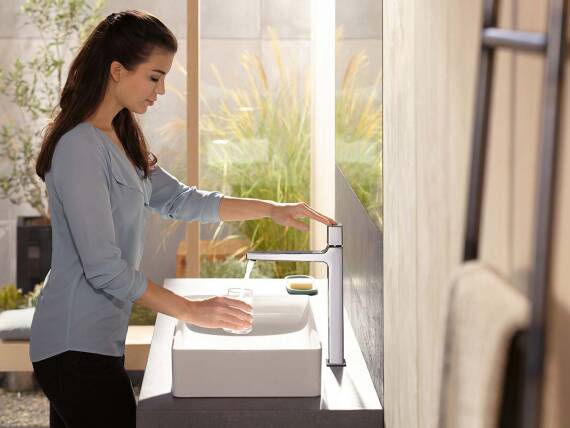 Whether you want to freshen up your bathroom a little, completely renovate it or build a new one. Whether you buy the tap or the sink first: in each case, the question arises as to what works well together.
To find the ideal tap and wash basin combinations, please refer to the PDF files that we have provided here for you free of charge. The dream combinations that we have identified will enable you to enjoy plenty of free space, coordinated design and great water adventures. Day after day.
In your bathroom, don't leave anything to chance
A shallow wash basin with a high tap, or a wash bowl that the water hits at the wrong angle: these can cause splashing. Or a tap that is too low? This unnecessarily restricts your free space at the wash basin. Since hansgrohe wants everything in your bathroom to feel good and look good, the premium brand looks beyond the rim of its own basin for you. We test our taps with sinks from different manufacturers.
Free of charge as a PDF: more than 12,000 tested combinations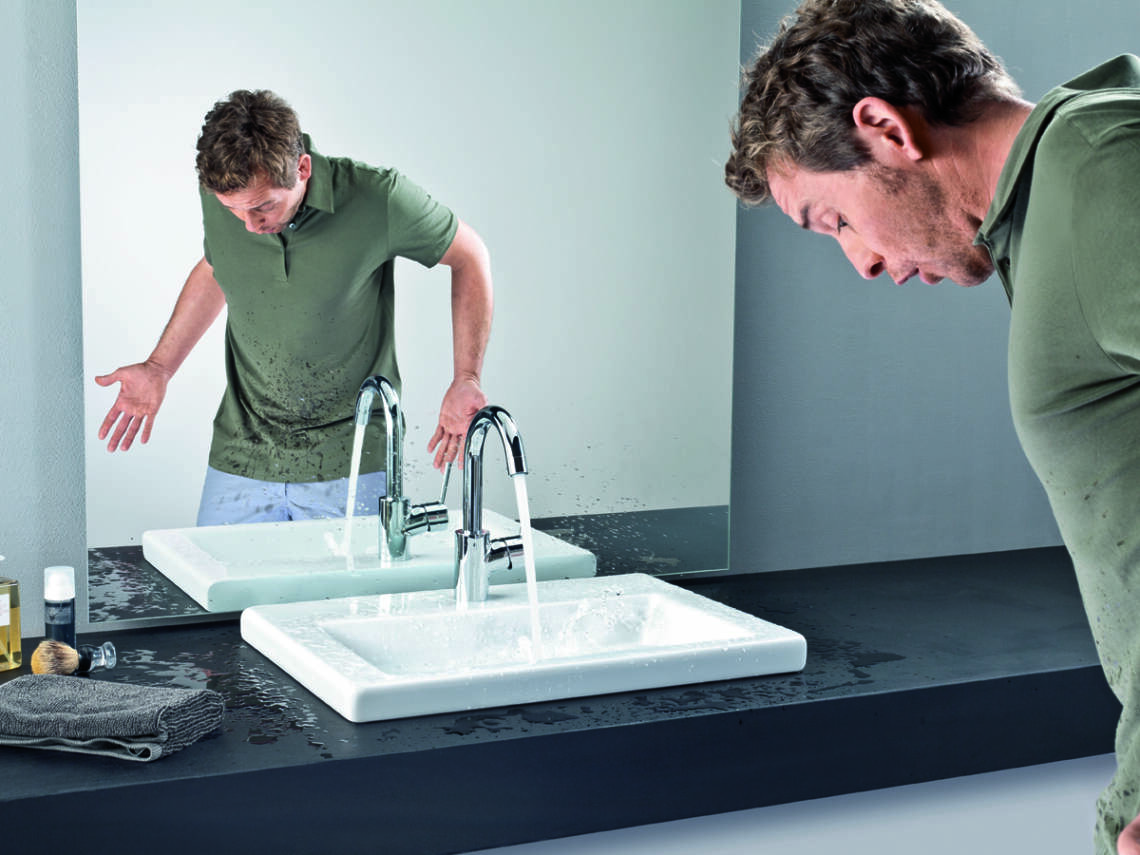 hansgrohe has developed an in-depth test procedure to ensure that there will be no splashing, design faux pas or loss of comfort, right from the outset. The "hansgrohe ComfortZone test" guarantees you the ideal combination of tap and wash basin. Sanitary experts carry out the testing under realistic conditions, in order to find out just how well customers' own taps work in combination with popular wash basins from leading manufacturers. Your perfect solution, from both a visual and functional perspective.
Under scrutiny: how testing is carried out at hansgrohe
In your planning, draw insights from our wealth of knowledge: at the hansgrohe Test Centre, more than 12,000 combinations of tap and wash basin have already been tested. The space available at the wash basin is tested during the comprehensive functional tests, along with the spattering characteristics and other criteria.
How the ComfortZone test works:

Free space test. Does the combination offer sufficient usable space? Here, a test ball is positioned between the tap and the wash basin in order to check whether it is possible to comfortably wash your hands.
Splash test. Is there splashing when the tap is turned on? Here, the tap is turned on and off at different water pressures. The splashing is assessed.
Practical test. Is spray created when users wash their hands? Here, a standardised model hand is moved backwards and forwards under the running water. Any splashing outside the basin is assessed.
Tested and recommended: ideal combinations at the wash basin
Did you find anything you liked? Once you have opted for a duo that does the job by means of the hansgrohe test tables, take your ideal combination along to the specialist partner. He will be able to assess whether it is possible to meet the on-site spatial and technical requirements. After all, there's no point in having the most beautiful combination if the space restrictions, connections or water pressure are not suitable. All these aspects have to be just right to ensure that installation goes without a hitch.
Authorised dealers
Locate showrooms of authorised dealers near you
hansgrohe Loading showroom data
An error occurred. Please reload the page.
Your search covers: Singapore, Brunei, Cambodia, Hong Kong, Indonesia, Laos, Malaysia, Philippines, South Korea, Taiwan, Thailand and Vietnam