Kitchen for all life situations
Which kitchen style suits me best?
Are you planning a kitchen that reflects your lifestyle perfectly? Find out here how the heart of the kitchen can support your own day-to-day life: depending on whether it is planned for a family or a single household. Or whether you like cooking like a professional or prefer to focus on design. Or maybe you would just prefer a kitchen that makes everyday routine easier.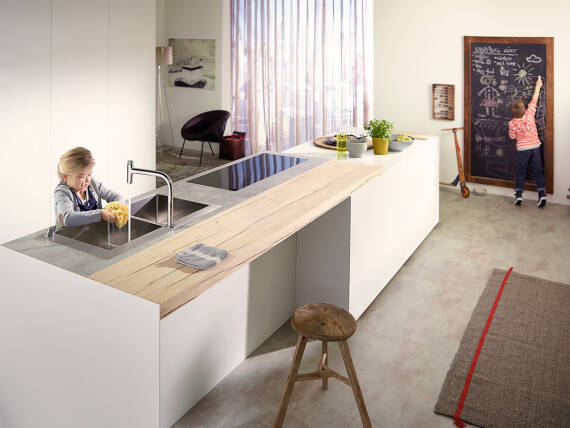 The family kitchen for action-packed everyday life
There's everything going on in the family kitchen: preparing food for people of all ages, quite often at the same time, exchanging news and washing hands; fetching a glass of water, not to mention a bowl for the pet. This means a lot of storage and work space is needed. Combine all those diverse tasks in your dream kitchen with sophistication by integrating a double sink or a large kitchen sink with additional draining board, including a multi-functional kitchen faucet. A coordinated combination of sink and faucet is a great help to you and the little ones. With a hansgrohe sink combi unit, the control is easy to reach on the front rim of the sink and valuable storage space in the floor unit is organised brilliantly. The integrated sBox stores the pull-out hose in a space-saving, firmly installed box, enabling you to conveniently pull out the shower hose to increase your range of operation significantly.
The whole family will appreciate these sink-related products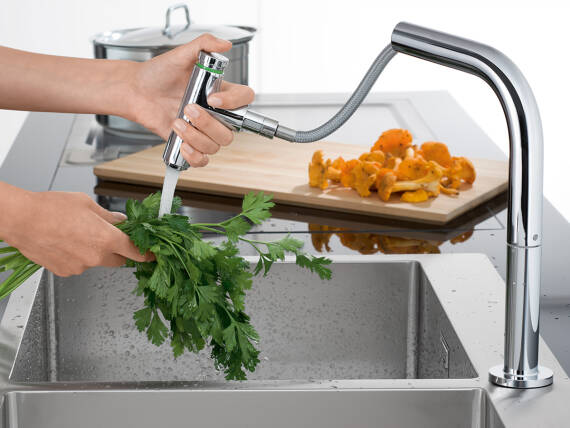 Amateur cook: on a level footing with the professionals 
Or are you an amateur cook and appreciate the fact that even complex work processes run like clockwork? Then clearly organised storage space and maximum functionality at the workplace around the sink are important to you. The high quality kitchen faucet needs to be able to deliver in an instant: water in the required jet type and temperature for rinsing vegetables, fish and meat, and not least for the precise filling of pots. The Select technology allows all of this at the touch of a button and if you have your hands full, you can simply use the back of them in passing. The ComfortZone for handling containers of different heights and a large operating radius provided by the particularly easy pull-out hose make for efficient work. Also think about having two sinks next to each other for different tasks or one large sink with enough room for trays and pans. To cover demanding use of the kitchen faucet and cartridge hansgrohe provides a five year warranty on them – for long-lasting enjoyment.
That's how to work to perfection in your own private cooking arena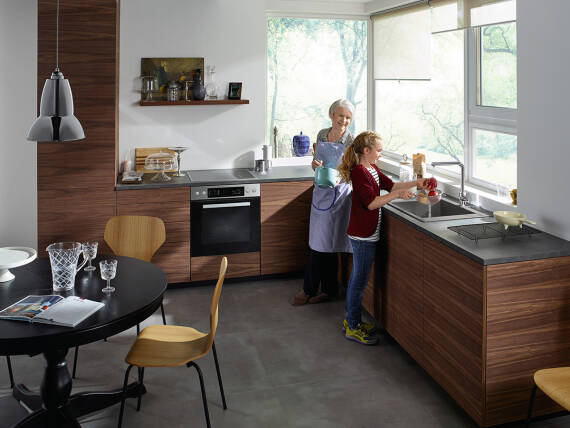 Modern kitchen for people of all ages
Would you like to have a kitchen where you will still be able to work easily in future? Here are a few tips to help you plan your kitchen well for when things don't go as smoothly as they used to. Storage space, electrical appliances and working heights are arranged ergonomically to be gentle on the back and therefore less stress to users of all ages. Choose to have the oven and dishwasher at eye level where possible. What's more, full pull-outs are a must: this way, you can access any difficult-to-reach cupboard corners. Just as important for ergonomics are good lighting, short distances without any tripping hazards and intuitive control. Kitchen faucets with the Select function therefore offer utmost convenience making kitchen chores easier for everyone. Water flows at the touch of a button at the pre-set temperature and jet strength and is turned off just as easily: extremely convenient when your hands happen to be full or dirty from your kitchen chores. Ease of operation at the sink, especially for people with restricted mobility range, can be crucial: ComfortZone for the optimal height or operating controls close to hand are a considerable aid.
Ergonomic design in the kitchen for everyone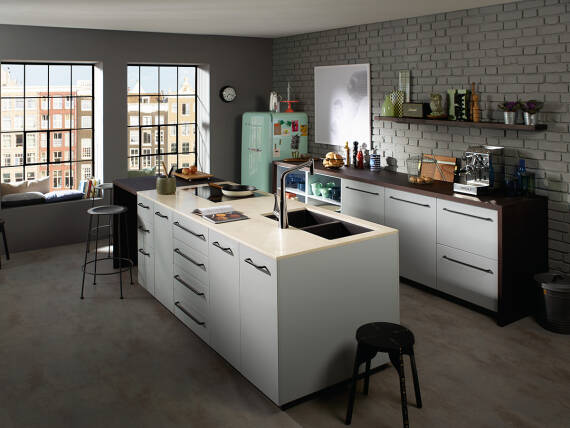 Kitchen highlights are part of a design-focussed lifestyle
Are you perhaps planning a kitchen that sets special accents in the interior with its carefully selected design? Then let the kitchen faucet be that eye-catcher on the sink unit! Maybe an island with worktop and sink will be the new focus of your open-plan kitchen? Combine the minimalist geometry and elegant design of hansgrohe faucets to create your individual design style. The style of living can also be reflected in the choice of sink: no matter whether you prefer a purist interior with the sheen of stainless steel and clean lines or warm and natural materials. The ingeniously designed sink will be the visual focus of your kitchen, not least in contrast to other surfaces, and will inspire you afresh every day. hansgrohe kitchen faucets are the ultimate feature of perfect design: The mastermind behind this is the award-winning creative studio Phoenix Design, which is also responsible for hansgrohe sinks.
Eye-catcher for the sink unit
Authorised dealers
Locate showrooms of authorised dealers near you
hansgrohe Loading showroom data
An error occurred. Please reload the page.
Your search covers: Singapore, Brunei, Cambodia, Hong Kong, Indonesia, Laos, Malaysia, Philippines, South Korea, Taiwan, Thailand and Vietnam