More volume, more enjoyment
Experience water like never before, with AirPower: enjoy long showers – without a care in the world
Get more enjoyment out of water and reduce your consumption too – hansgrohe AirPower makes this possible. The AirPower technology enriches water with air, so that each droplet feels plumper, more full-bodied and lighter. The result: added indulgence whenever you come into contact with water in the bathroom. Plus more efficiency. The air power enables you to use water more economically.
hansgrohe AirPower: experience more, with less water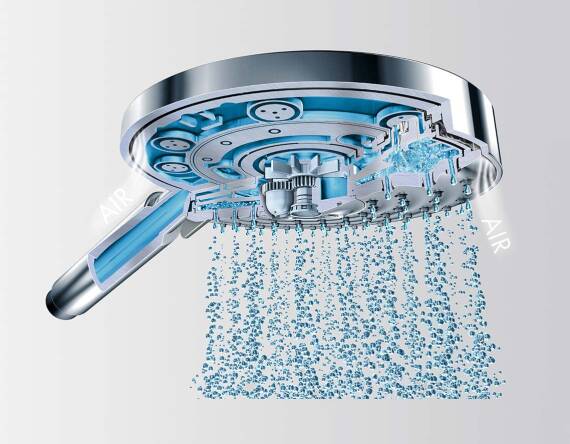 Because air is plentiful, but precious water is not, the hansgrohe innovators have designed something ground-breaking in their own spray laboratory: AirPower. This means you can have fun and conserve water at the same time.
The principle is simple, but ingenious: an ample supply of air is sucked in via the spray disc of your shower. This literally stirs up the water. Freshly enriched with air, the droplets are noticeably lighter and softer. Not only does this guarantee more enjoyable showers, it also enables you to reduce your water consumption. Thanks to AirPower, you can enjoy water in its most beautiful form – completely carefree.
Unique shower fun with AirPower
Every droplet feels velvety soft on your skin, creating a fabulous effect: the AirPower shower rain envelops your body and makes you feel amazing. Numerous hansgrohe products are equipped with this wonderful effect: overhead and hand showers, shower systems and basin taps.
At hansgrohe, we believe that every drop counts. Therefore it is our goal to help you save water and energy. Among our bathroom products with pioneering technologies, you have a comprehensive selection of AirPower showers. Would you also like to find out all about the jet types that are equipped with hansgrohe AirPower? Enjoy invigorating AirPower showers with Rain Air XL and Rain Air.
Find out how AirPower works in hansgrohe showers: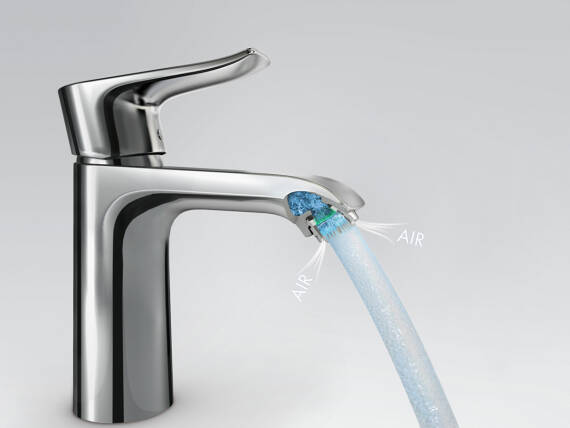 hansgrohe AirPower: making water feel even better – at the wash basin too
Lots of basin taps from hansgrohe are equipped with AirPower. The added comfort and water efficiency are discernible, just from a glance at the tap spout. AirPower works quietly and reliably, perceptibly adding volume to every droplet of water and reducing annoying splashing. Whether you're washing your hands, washing your hair or caring for children's sensitive skin: the velvety soft droplets feel good.
How hansgrohe AirPower works in mixers:
Check out hansgrohe products with AirPower technology here:
Authorised dealers
Locate showrooms of authorised dealers near you
hansgrohe Loading showroom data
An error occurred. Please reload the page.
Your search covers: Singapore, Brunei, Cambodia, Hong Kong, Indonesia, Laos, Malaysia, Philippines, South Korea, Taiwan, Thailand and Vietnam