Conserve water in the bathroom
hansgrohe EcoSmart saves both water and money
hansgrohe showers and taps equipped with EcoSmart technology consume up to 60% less water than conventional products. Moreover, the lower hot water consumption reduces the energy requirement. All in all, this means: less carbon dioxide emissions and lower costs. EcoSmart is therefore good for both the environment and your wallet.
Your water and energy bills will show you how efficiently EcoSmart is working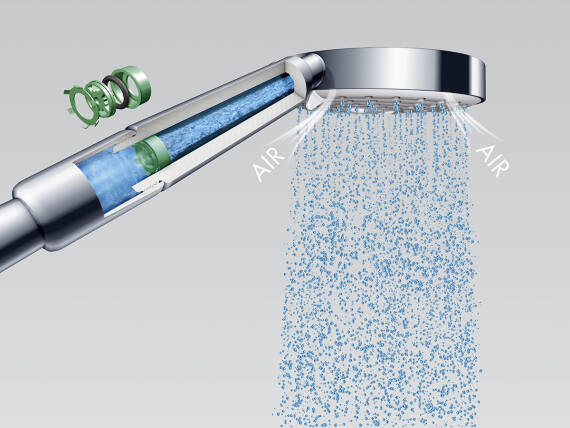 hansgrohe EcoSmart is hidden inside your hansgrohe product. However, its effect cannot be overlooked: EcoSmart guarantees extensive savings.
How you can benefit from EcoSmart technology:
Water consumption reduced to 9 l/min on overhead and hand showers (green products even consume only 6 l/min.)
hansgrohe taps require only 5 litres of water per minute as standard
Decreased hot water consumption, and reduced energy consumption and costs accordingly
Lower CO2 emissions due to reduced energy consumption
Constant flow rate, even at different water pressures
A real treat, even with a low flow rate – a full, bubbling jet of water thanks to the enrichment with air
How the hansgrohe EcoSmart technology works on hand showers:
Do something good for yourself and for the environment – conserve water at your wash basin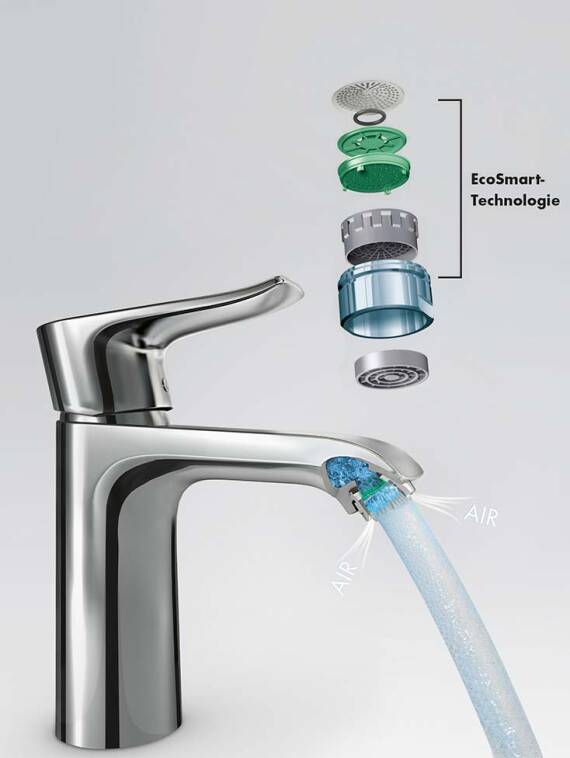 hansgrohe EcoSmart reduces your daily water consumption at the wash basin by up to 60%. A huge saving. Multiply the resultant reduction in consumption by the number of basin taps in your home. As you will see: EcoSmart technology from hansgrohe does a lot to reduce the burden on the environment and also on your budget.
Thanks to EcoSmart, water consumption on all hansgrohe basin taps is reduced to around 5 litres per minute. How does that work? By adding air and by using a special flow limiter. The EcoSmart aerator is built into the spout of the basin tap and enriches the water with air. The result: a full, bubbling jet of water. A "precision elastomer" guarantees constant performance and a consistently powerful water jet, even when the water pressure fluctuates. It limits the flow, thus constantly conserving drinking water.
How hansgrohe EcoSmart works in mixers:
Check out hansgrohe products with EcoSmart technology here:
Authorised dealers
Locate showrooms of authorised dealers near you
hansgrohe Loading showroom data
An error occurred. Please reload the page.
Your search covers: Singapore, Brunei, Cambodia, Hong Kong, Indonesia, Laos, Malaysia, Philippines, South Korea, Taiwan, Thailand and Vietnam